In Be Your Own Best Publicist, we spend an entire chapter talking about how social media and the Internet have changed communication forever and how vital it is to be aware of how quickly something can spread online — for good or bad. As Mark Twain once said (somewhat prophetically given this digital age), "A lie can travel around the world while the truth is putting on its shoes." Think about all those rumors of various celebrities' premature death (Jon Bon Jovi, Jeff Goldblum, Chris Brown, Natalie Portman, George Clooney, Britney Spears, Harrison Ford and Rick Astley just being a few examples) and how they spread like wildfire on Twitter. On the flip side, consider how rapidly an amateur performer like Rebecca Black could catch on through YouTube with her hit song "Friday."
During the recent Social Media Week (SMW) in New York (and 11 other markets across the globe), Jessica's company, Hearst hosted SMW's Art & Culture hub.  One of the sessions, "@HAHAHA: How to Be Funny in 140 Characters or Less" created a viral experience that became the no. 2 trend on Twitter worldwide within 30 minutes. At the start of the session, moderator and renowned comedy writer Lizz Winstead (@lizzwinstead) challenged the other panelists — former Late Night with Jimmy Fallon blogger Jon Friedman (@friedmanjon) and comedian Julieanne Smolinski (@boobsradley) — to start tweeting with the hashtag #rejectedgroupons.  Not only did the panel's attendees join in, so did hundreds of people on Twitter. The tweets ranged from "2 tickets to 'The Artist' script reading" to "marriage counseling with Kim Kardashian," and people are still retweeting them a week later.
It was a fascinating social experiment in how something becomes viral within minutes online — and while it was amazing to witness (and be part of, though Jessica's Groupon reject "A night on Jeremy Lin's old couch" didn't get as many RTs as "Voldemort nose job"), it was also somewhat of a cautionary tale. So, in honor of the session, here are some #rejectedgroupons that represent ways in which you don't want to go viral:
"Half off a Drunken Photo Session": If you're posting pics of yourself in compromising situations (e.g. scantily clad, making out with a stranger, doing a beer bong, etc.), stop instantly. Even if you do filters on your Facebook page, those photos are still on the Internet and can be seen by at least some folks (who may show them to other folks you really don't want seeing them). We say any photos that are NSFW (not safe for work) are off limits. Consider your social media profile like a billboard in Times Square — one that your boss, grandmother or future employer might walk past at any time.
"Etiquette Lessons from a Recently Fired ESPN Writer": We all make mistakes but when you publicly say or write things that can be construed as offensive, it's very hard to take them back. Take the on-air "chink in the armor" comment made about the NY Knicks' Jeremy Lin last week on ESPN which led to two people getting canned or suspended…or Ashton Kutcher's tweet defending Penn State coach Joe Paterno before doing his research on the university's sexual abuse scandal. Social media moves fast — sometimes too fast. What we put out into the ether and think no one may read can sometimes have major long-term repercussions. So think before you post. Every tweet you write will end up in the Library of Congress forever…yes, really!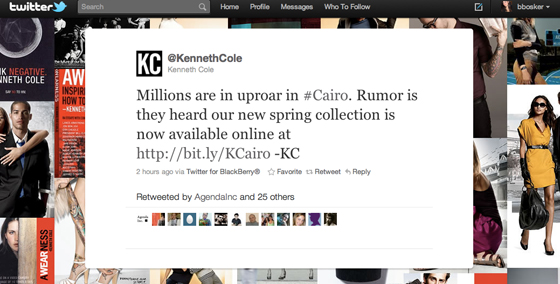 "2-for-1 Comedy Tips from Kenneth Cole": Sure, the theme of the Social Media Week session with #rejectedgroupons was how to be funny on Twitter, but not everyone is or should try to be. Unless you do comedy for a living, don't assume that people think your tweets are hilarious and avoid joking about serious news events. Case in point: During violent protests in Egypt early last year, fashion designer Kenneth Cole personally tweeted "Millions are in uproar in #Cairo. Rumor is they heard our new spring collection is available online." Often humor can get lost in translation when written (tone can fall flat) but that was simply in poor taste and tarnished Cole's longstanding reputation of being a socially-aware activist with a charitable bent. Social media moves at breakneck speed and something that you put out there can quickly pick up steam and negatively affect your online profile.
The Web can help you build your image and promote yourself in a good way — if used correctly. But proceed with caution: It's easy to slip-up online and extremely challenging to reverse the damage. Any examples of viral ideas that went well or exceedingly wrong?  Share with us here, on Facebook or Twitter (@bestpublicist).